Copenhagen, Denmark
---
Since we really enjoyed Mary's heritage tour to Ireland with Odysseys Unlimited in 2010,
we called on them again to take us on my heritage tour to Scandinavia in 2011. It was a
wonderful tour where we saw some beautiful scenery, met some great people, and had lots of
laughs and fun parties! We began our tour in Copenhagen, Denmark, at Tivoli Gardens. Opened
in 1843, Tivoli now features, in addition to the beautiful gardens, an amusement park, theatrical
performances, restaurants, parades, concerts, Tivoli Lake, and an aquarium.

My appreciation goes out to Wikipedia and many other websites that helped to fill
in the gaps in my knowledge of the various places we visited on our tour.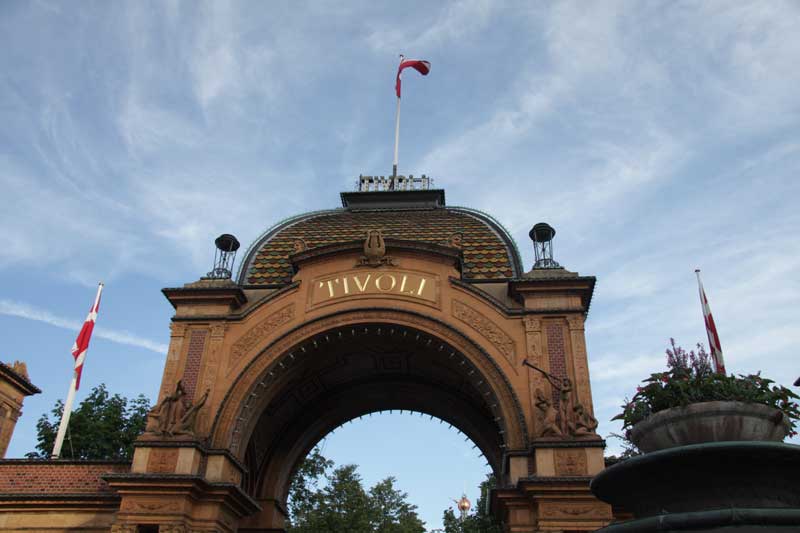 ---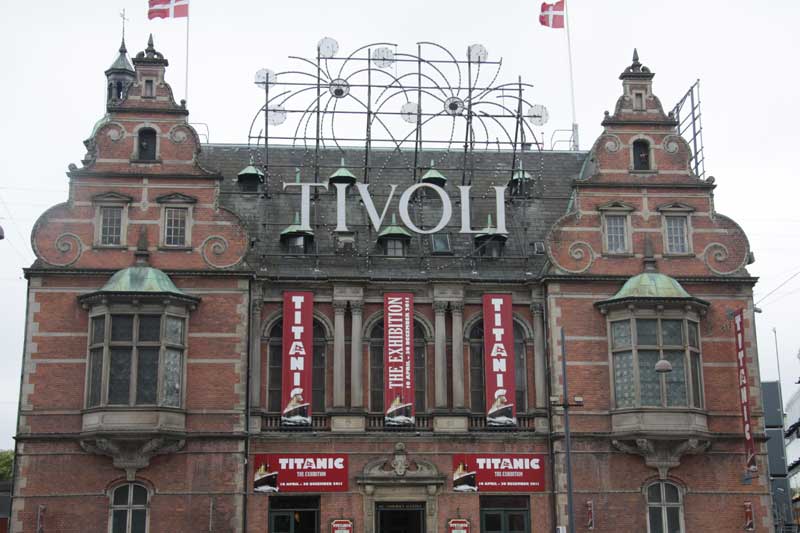 ---


We have our first meal together as a group in Tivoli at the Peacock Restaurant.
Sisters Cary and Mary have recovered from their long flights and are ready to begin!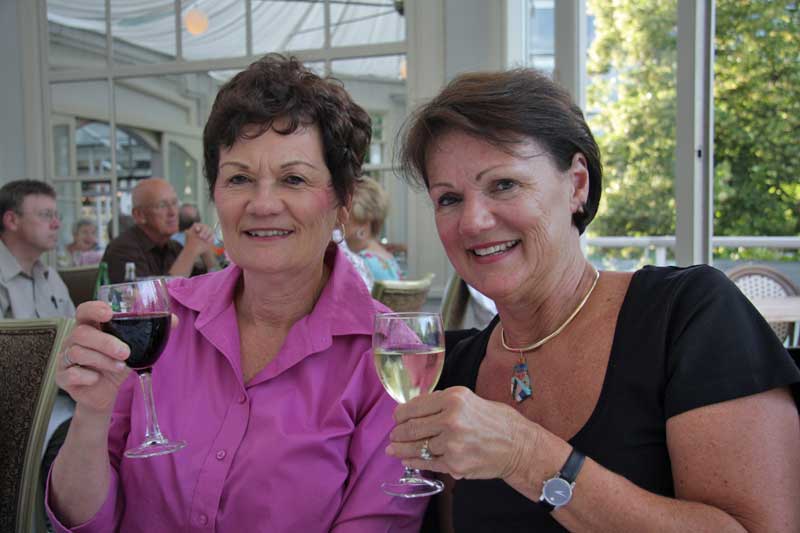 ---


Dinner entrees included choices like lamb or "guinea fowl" plus various selections
of local and worldwide adult beverages, including Denmark's famous Tuborg beer.
Tuborg was founded in a suburb of Copenhagen in 1873 and since 1970 has been part of
the Carlsberg Group (Copenhagen, 1847).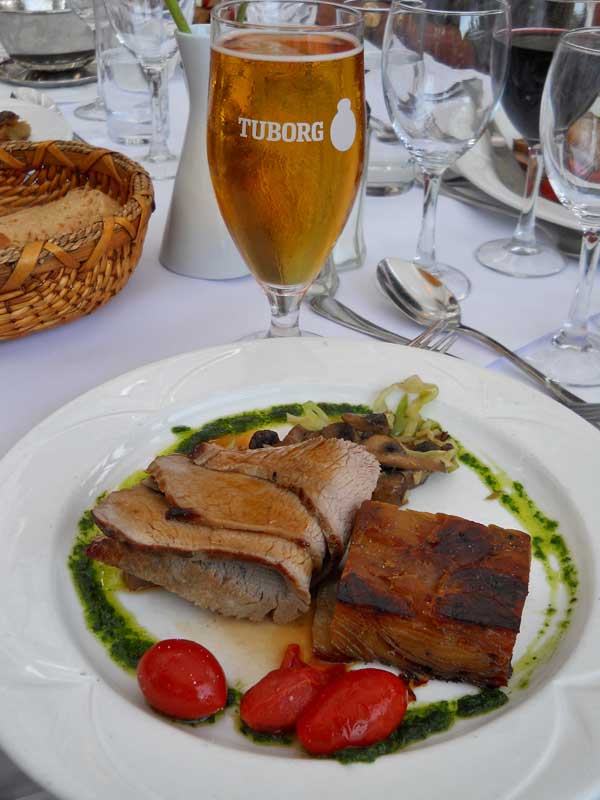 ---


After dinner we strolled through Tivoli, taking in the sights and working off our delicious meal.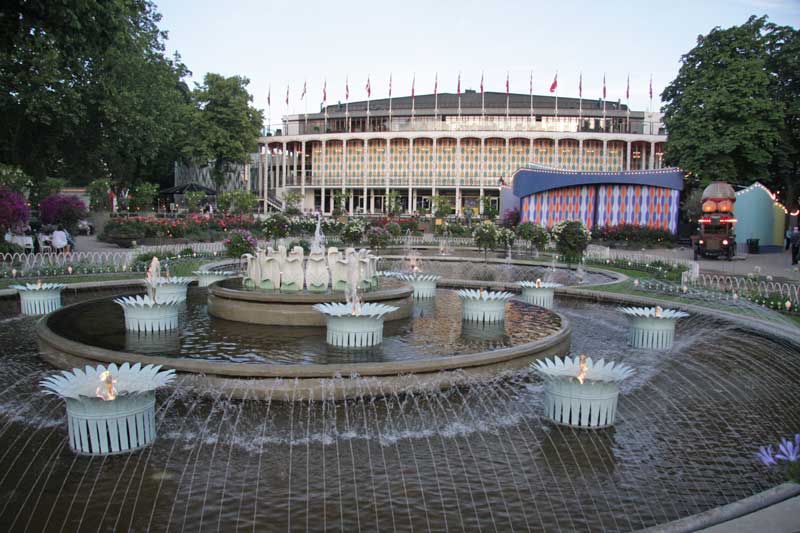 ---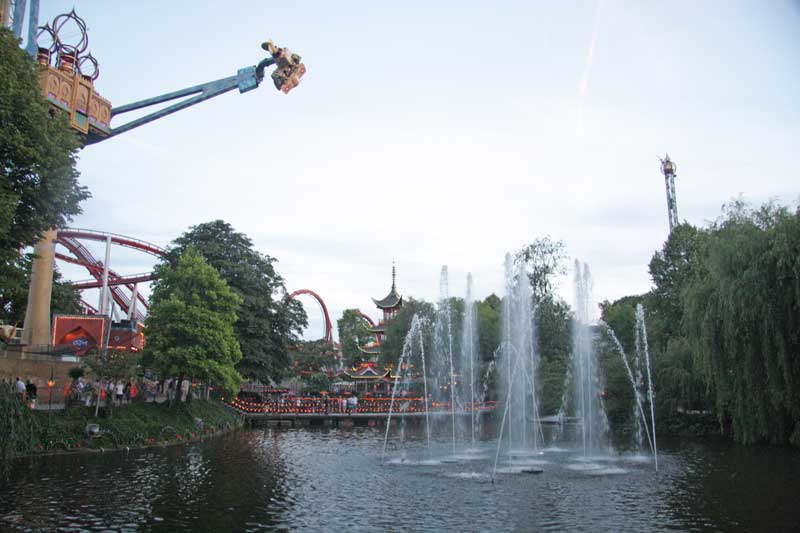 ---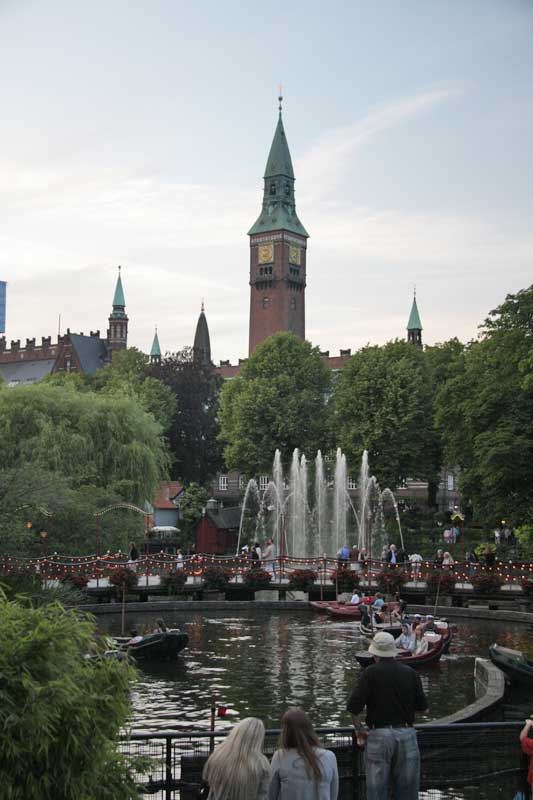 ---


The next morning we ate at one of the many buffet breakfasts on our tour. I had pickled herring
and salmon, not choices I often make in breakfast buffets in the US. Mary enjoyed a genuine
"Danish pastry" but was a bit hesitant to try some of the more exotic seafood choices (me, too!).
We then boarded a tour bus and began seeing the sights of Copenhagen along with a local guide.
Our first stop of the day was at the palace grounds of Denmark's Queen Margrethe.


---


While at the palace we were able to see a changing of the guards, just a brief ceremony.
Then it was back onto the bus for more of the city sights.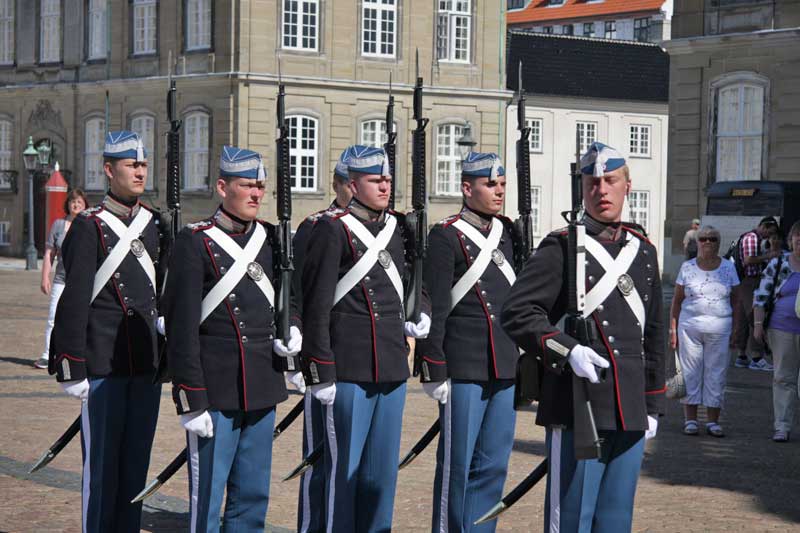 ---


The guards seem comfortable with the tourists getting into the picture, too. Hi, Loraine!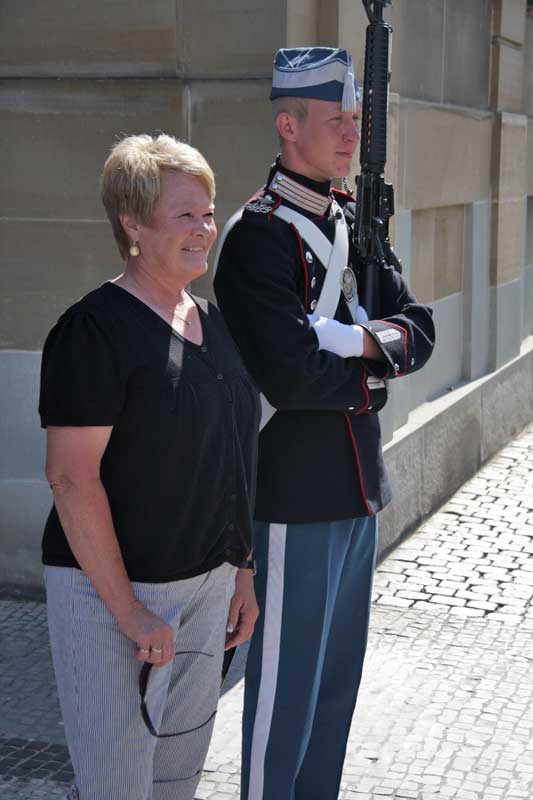 ---


In Norse mythology, this fountain statue of the goddess Gefion depicts her ploughing out as much
land as she could in one night, using her four sons that have been transformed into bulls.
For her reward at this feat, the king of Sweden gave her the island of Sjaelland, the largest
island of Denmark, and the one on which Copenhagen is located.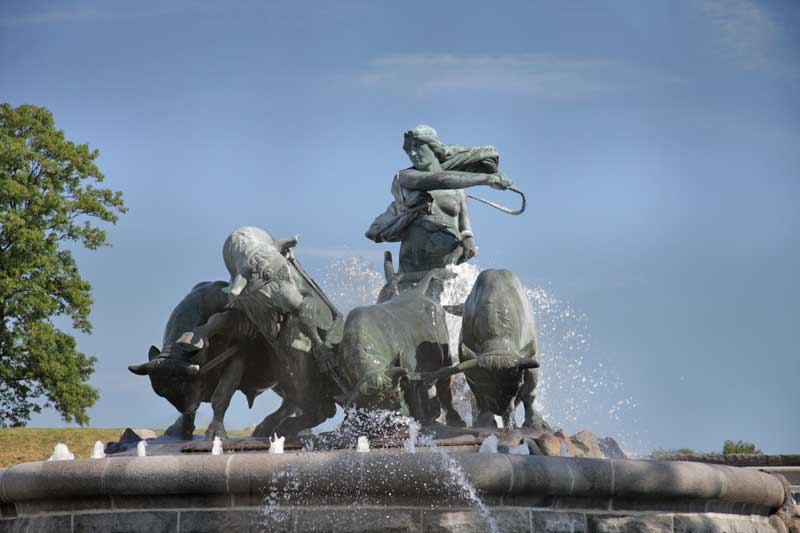 ---


We visited Rosenborg Castle, built in 1606 in the Dutch Renaissance style by Christian IV
as a country summer house. We were able to see many treasures collected over the centuries.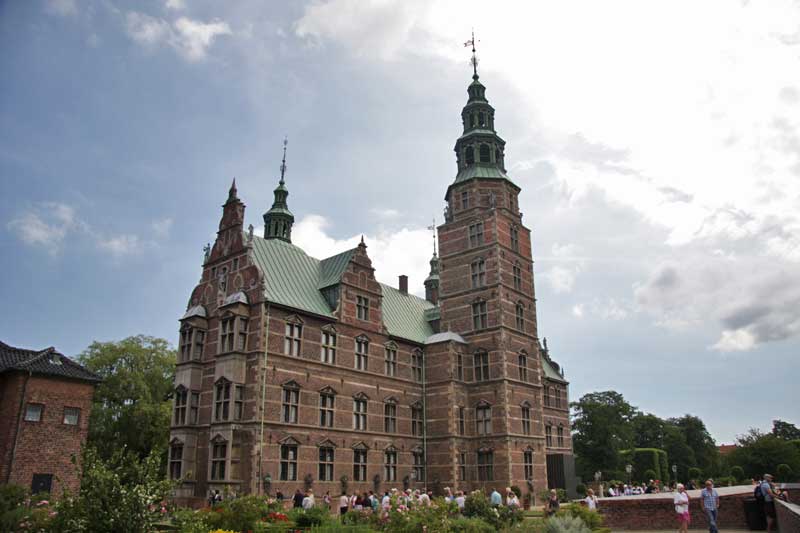 ---


The king's and queen's chairs are guarded by the lions.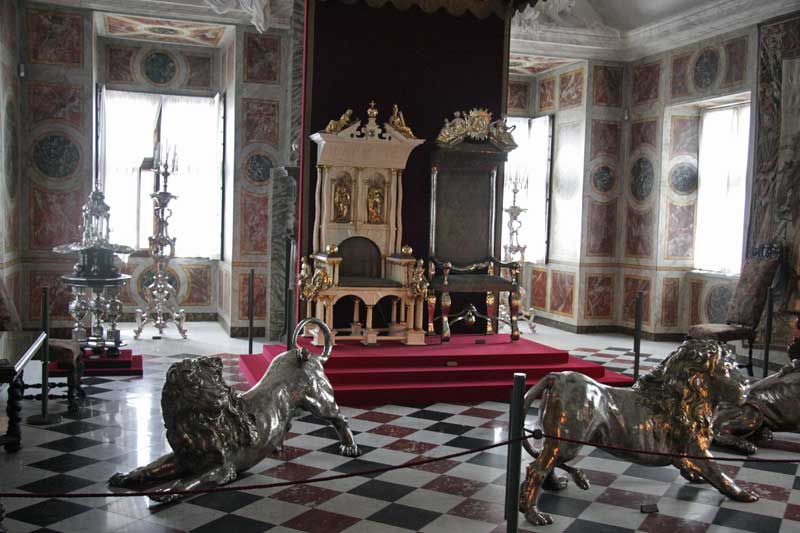 ---


There was a lot of 18th century porcelain on display in this castle.
One sign credits the maker (apparently), "Meissener - Porcelaen, 1751".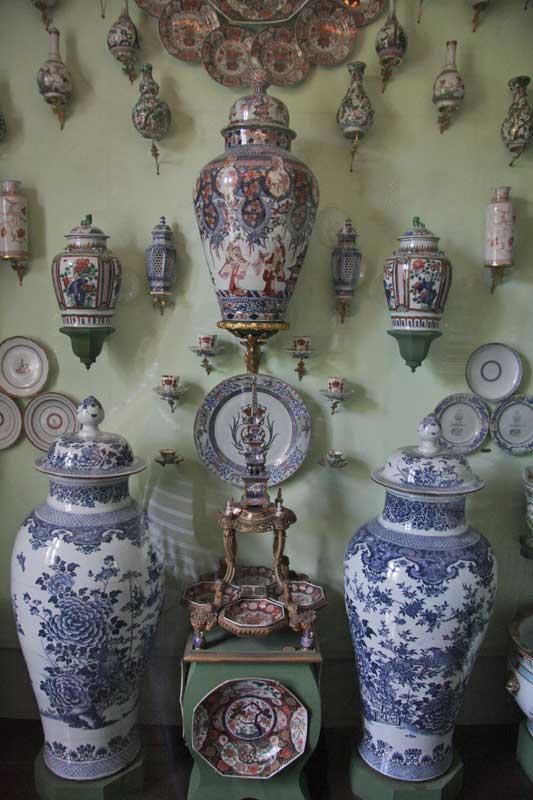 ---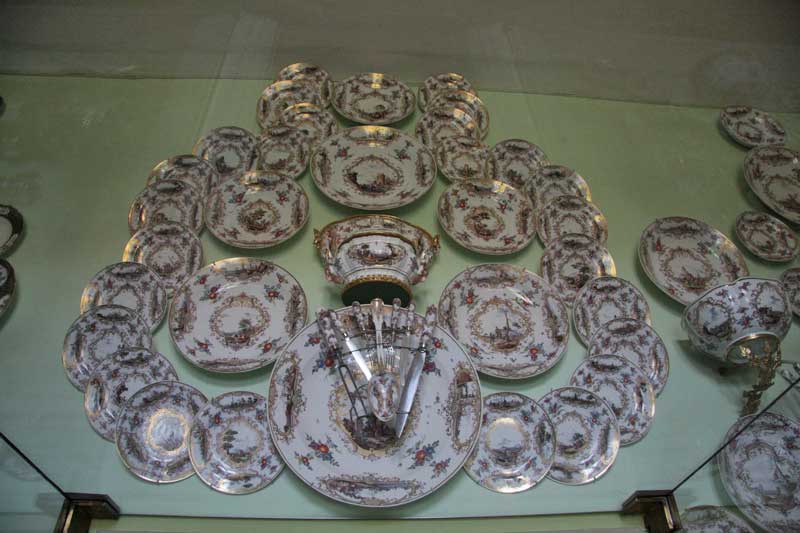 ---


The Crown Jewels were also on display.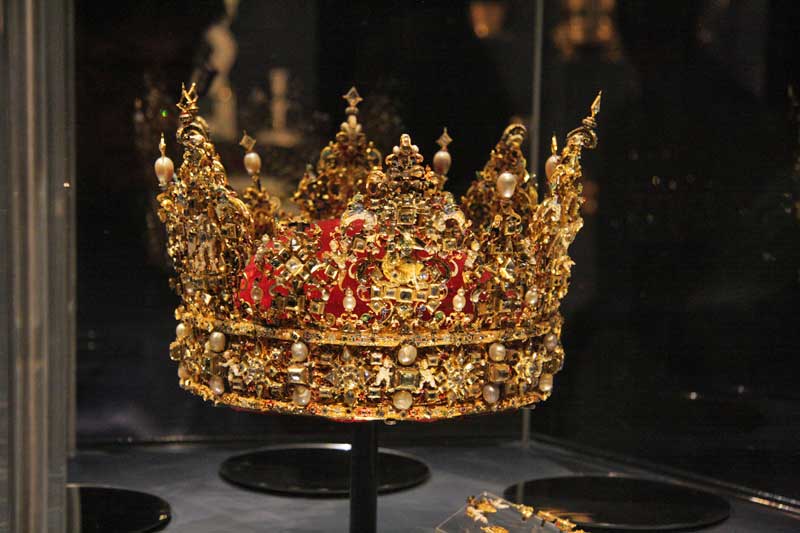 ---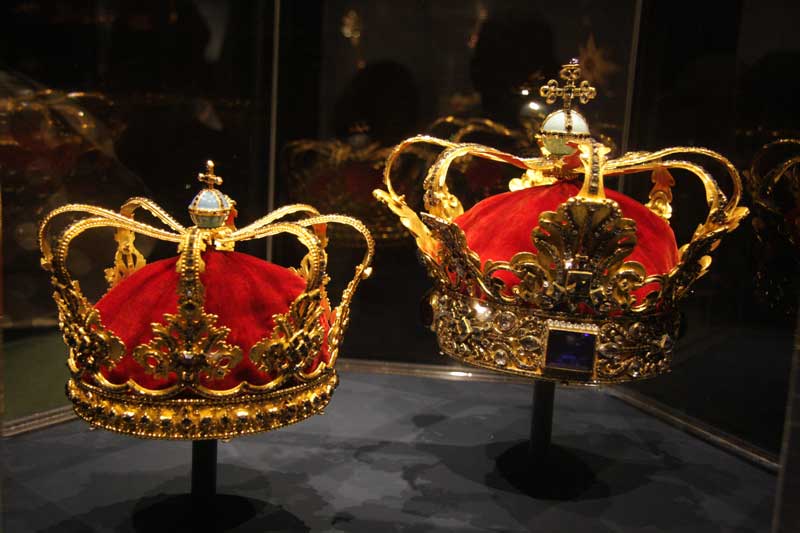 ---


Several of us in our tour group took a boat tour of the canal system in Copenhagen.
We passed the beautifully restored houses of Nyhavn as well as other historic areas.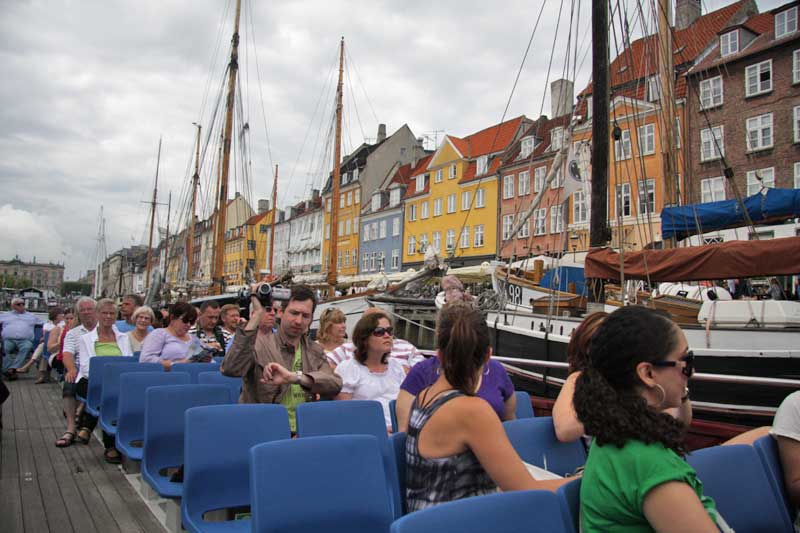 ---


The Copenhagen Opera House, a gift from the Moller Foundation (Moller was a co-founder of the Maersk shipping
empire). It is one of the most expensive opera houses in the world, with a construction cost of over
$500 million (US). The grand opening, in January of 2005, was attended by Maersk officials as well as
Danish Prime Minister Rasmussen and Queen Margrethe II.


---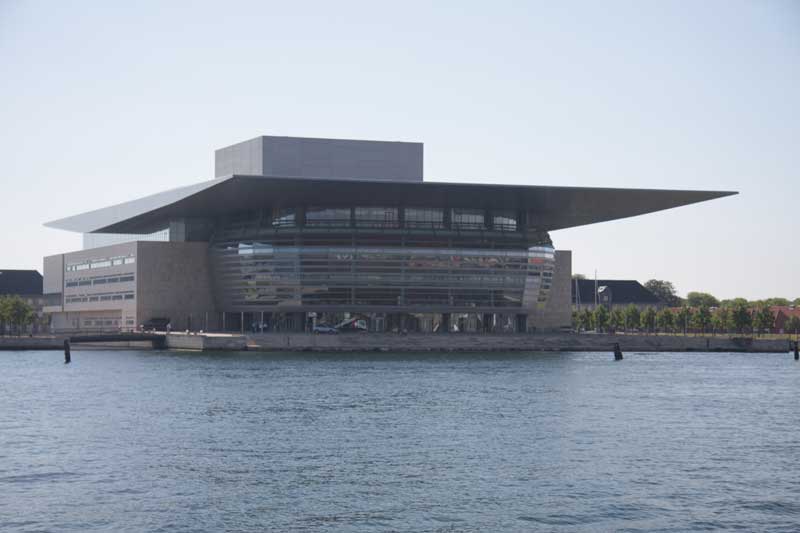 ---


While on the tour boat, we got a back view of Hans Christian Andersen's
statue of the Little Mermaid. It was surprising to me how that little
statue was able to draw so many tourists. But, all the tour guides bring you there.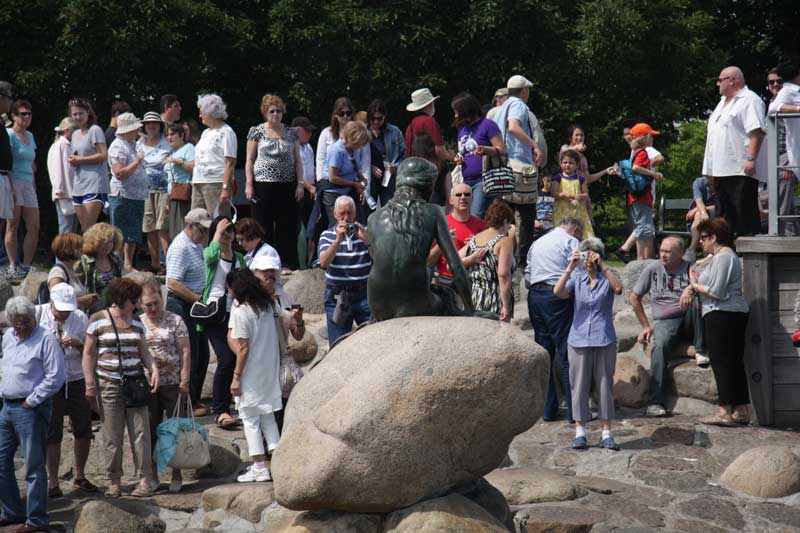 ---


An old fortress still stands as a reminder of the way the city was defended long ago.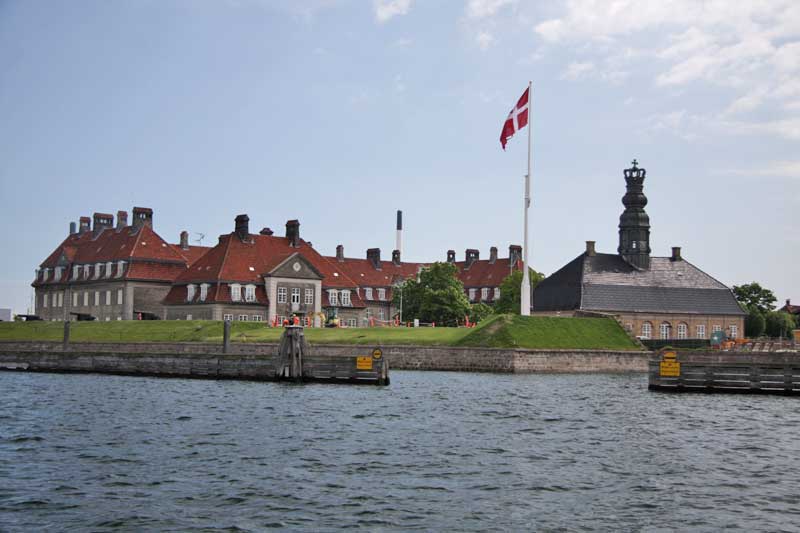 ---


Here is a boat load of tourists. Oh, they are us! Hi, Beverly!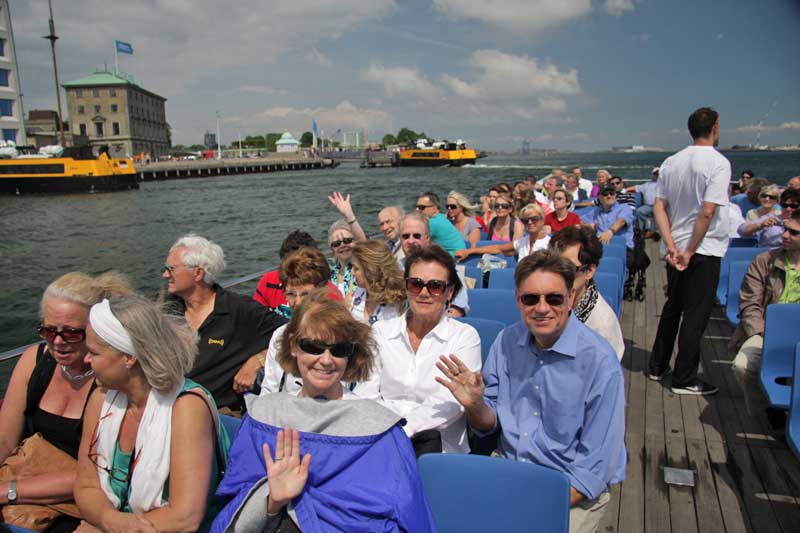 ---


The tour boat took us to various areas of the city, this one
being a mixture of businesses and residential buildings.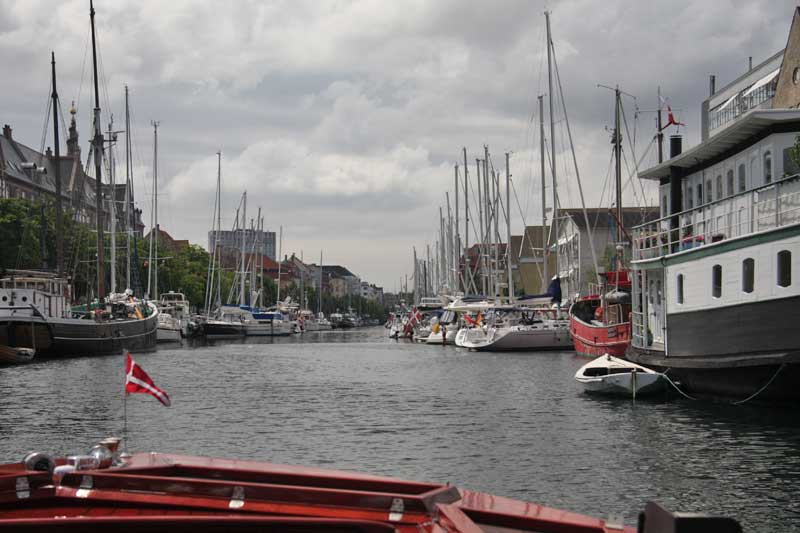 ---


What a great way to live - instead of a back yard, you just step onto your boat and sail away!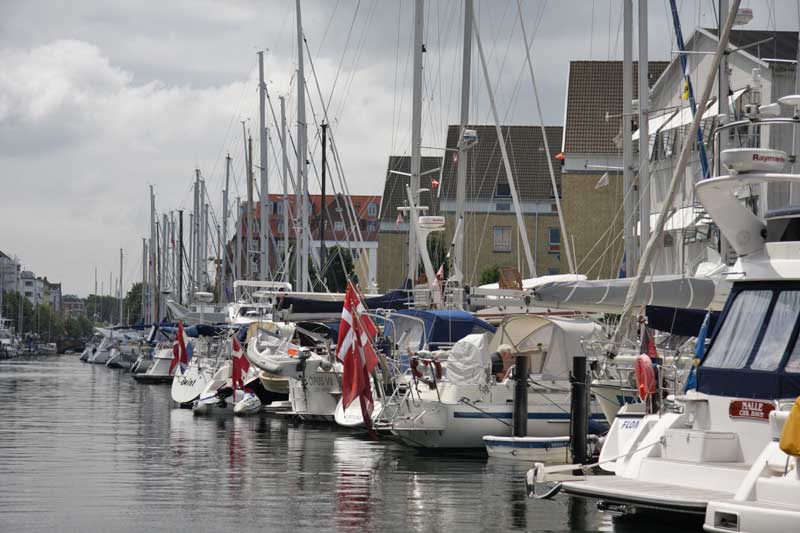 ---


This house (on the canal) was the home of Hans Christian Andersen (1805-1875). His most famous works
include these children's stories: "The Steadfast Tin Soldier", "The Snow Queen", "The Little Mermaid",
"Thumbelina", "The Little Match Girl", and "The Ugly Ducking". He was an author, a fairy tale writer, and a poet.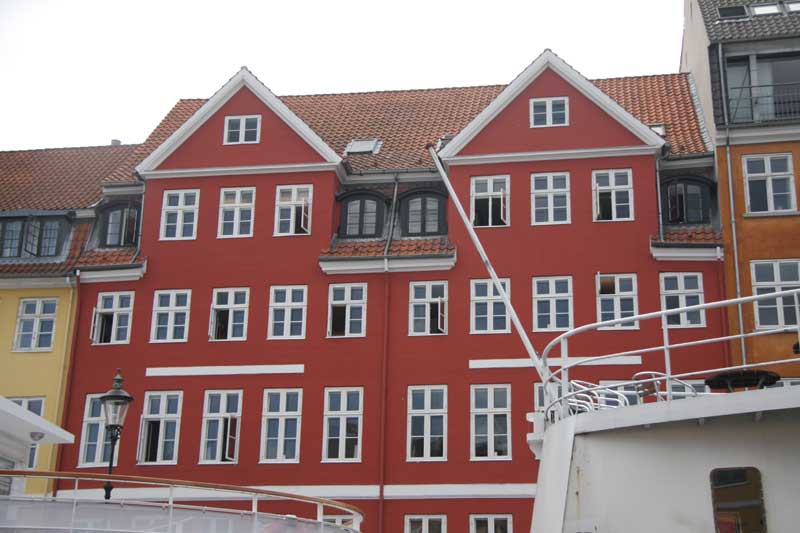 ---


After the canal tour, a few of us gathered to sample more Danish food/drink
and to plan the next part of our free day here in Copenhagen.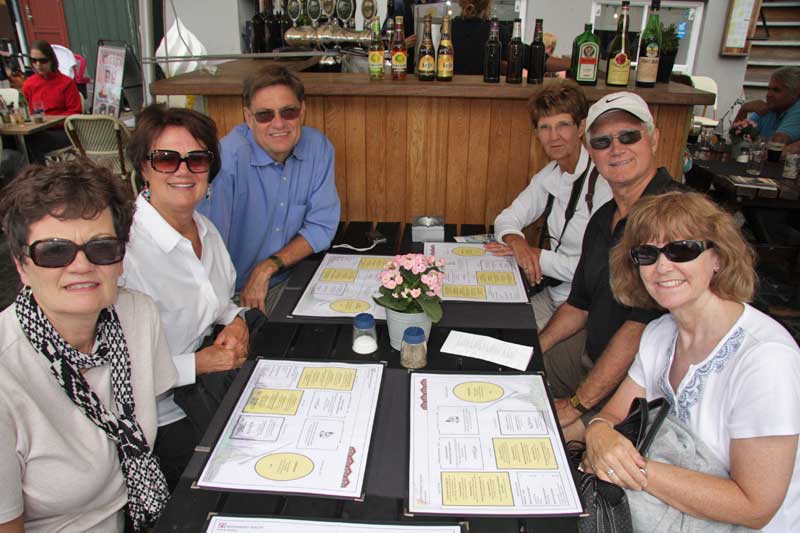 ---


On a walking tour of the city, we came across several elephant statues, which are part of
"Elephant Parade Copenhagen 2011". The "parade" features 103 elephant statues, found all
over the city in 2011 as part of the support of the Asian Elephant Foundation, dedicated to
preventing extinction of the Asian elephant. Snuffles, our travel mascot, enjoys his perch on
this colorful specimen. All of the statues were sold at auction in August of 2011.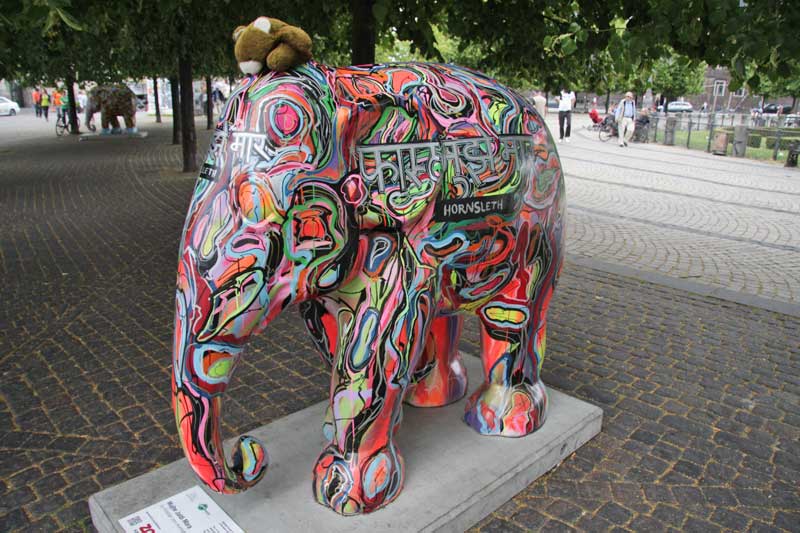 ---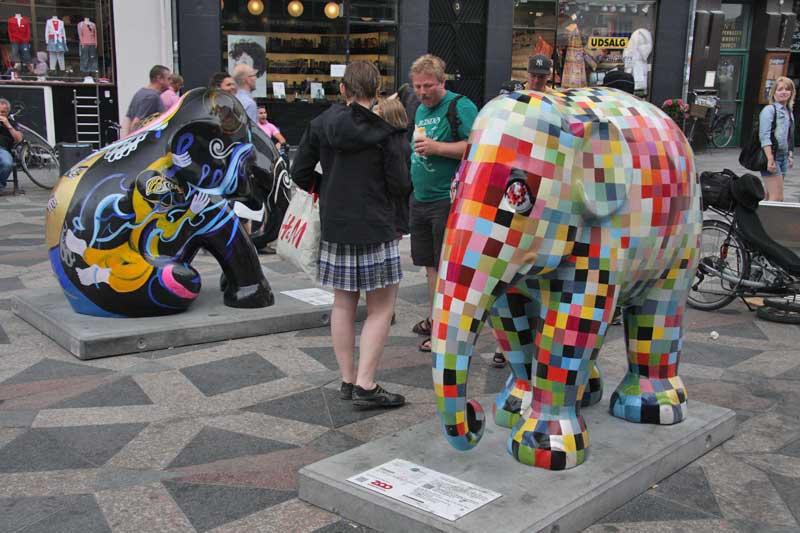 ---


This is the Stroget district of Copenhagen. Started in 1962 as a holiday street closure, it
has developed, over the decades since, into the longest pedestrian shopping area in Europe.
During the summer, the Stroget will have 250,000 daily visitors (120,000 on a winter's day), and
the area has expanded to several streets and community squares over the last 50 years.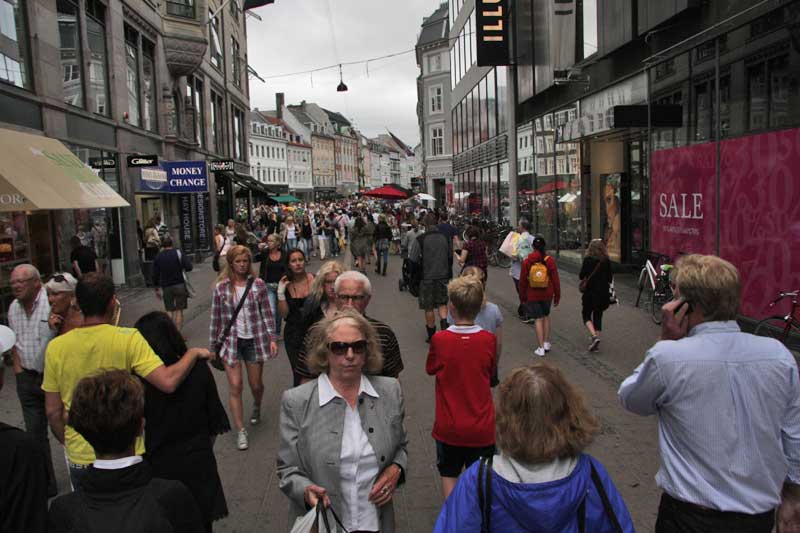 ---


The street artists along the Stroget sure look different than they do at home!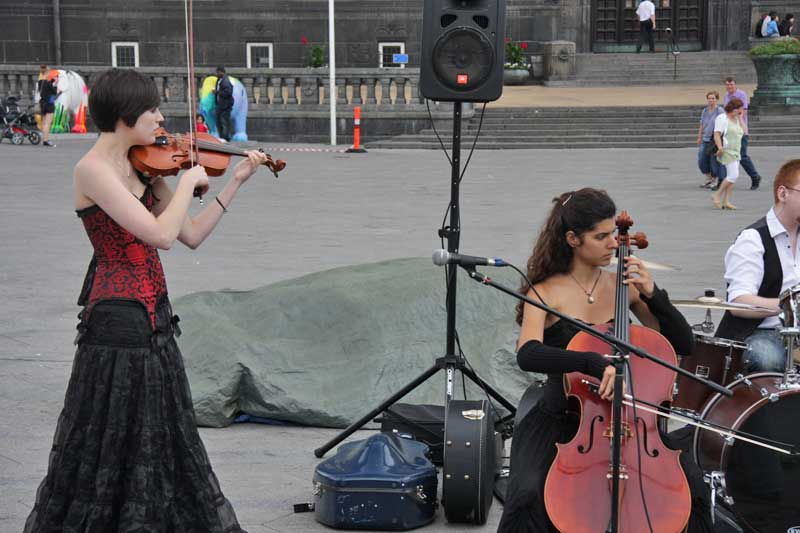 ---


Here we are with the man himself, Hans Christian Andersen.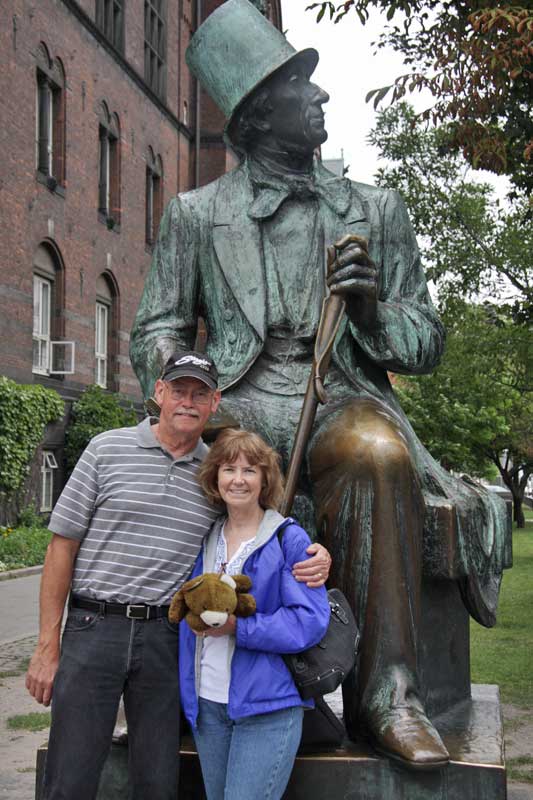 ---


Sisters Cary and Mary, plus Don, Mary J, and I, broke away from the main group and branched out
to an area of Copenhagen called Christiania. It can be described as a "hippie commune", a term
from the 1960's, where traditional government is frowned upon, and "freedoms" such as the sales
of marijuana and hashish are tolerated. We must have been feeling adventurous that day but we were
disappointed to see that cameras and photography are not allowed there (due to drug sales). So most
of the experience will just have to reside in our memories (as long as they last!). We took a
city bus to Christiania and it dropped us off at this entrance, marked by graffiti posters and
panels along the street approaching this particular entrance point.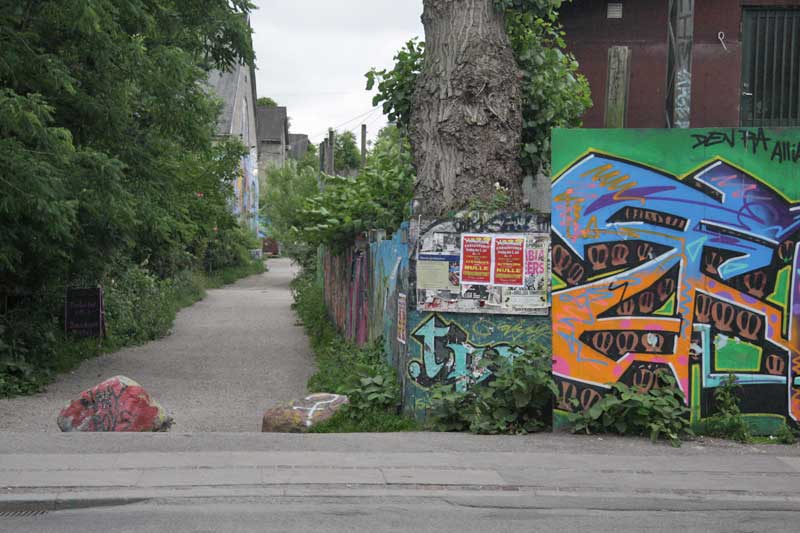 ---


After walking around for awhile and witnessing (but not photographing) sales of various interesting
looking substances (!), somehow we decided to have dinner at one of the local restaurants. After all,
it was our 21st wedding anniversary (Mary and Jim), so we chose a restaurant called Spiseloppen as it
actually had pretty good reviews from our tour book. It was above one of the oldest rock music venues
in Copenhagen (since 1974), called Musikloppen (The Music Flea). Here we are, climbing the stairwell
leading up to the restaurant.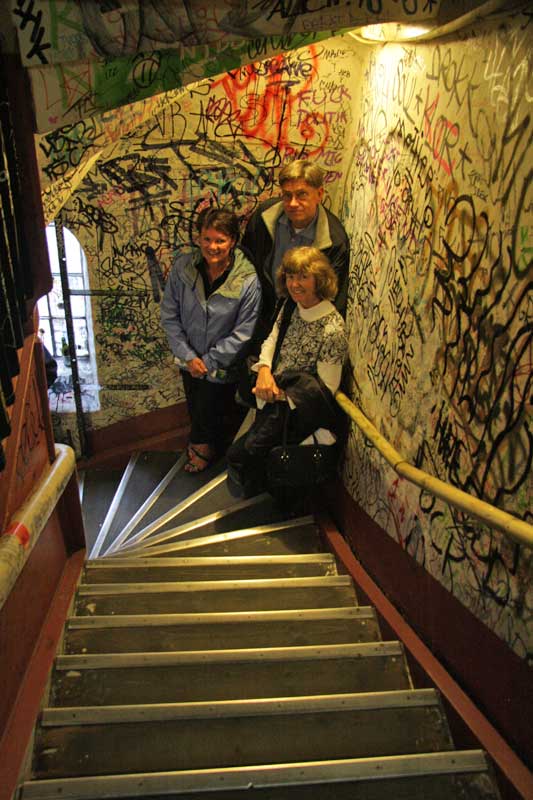 ---


Don said he detected a funny smelling, burning substance in that stairwell. I wonder what that was (!).


---


I dared to take out my camera (a Canon EOS 40D that I didn't want confiscated) and shoot this
picture showing the back side of the "Christiania" sign as we were preparing to leave. Notice
how the sign makes reference to us returning to the "real world", the European Union.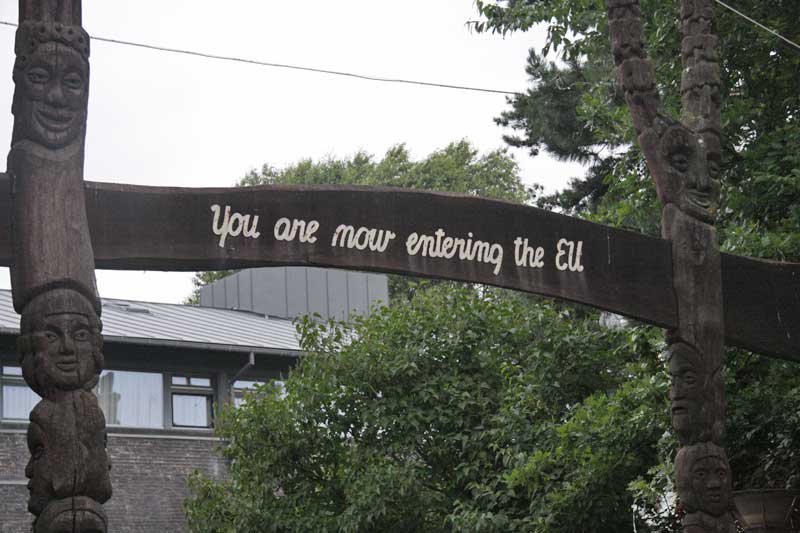 ---


The group gives the universal peace sign (from the 1960's) as we prepare to leave Christiania.
From there we walked briskly (OK, we ran) to the bus stop before anyone was able to take my camera.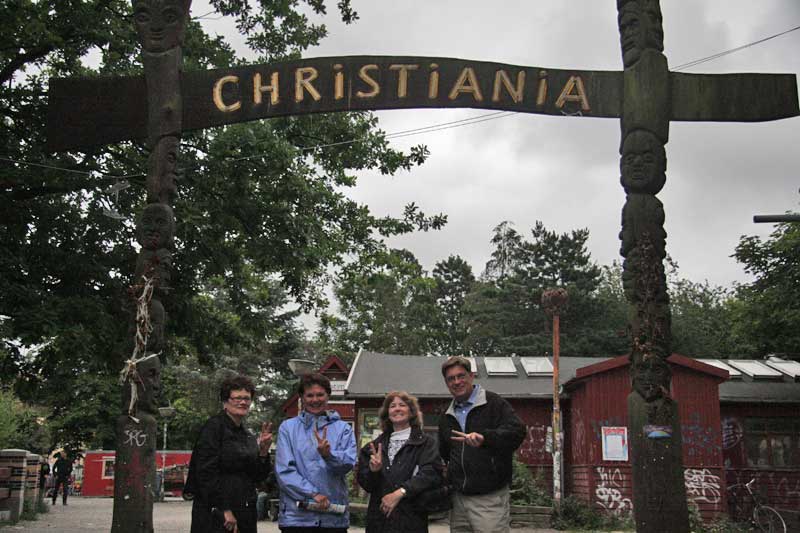 ---


One more bus tour before we leave Denmark. Here she is (The Little Mermaid) with no tourists in the picture!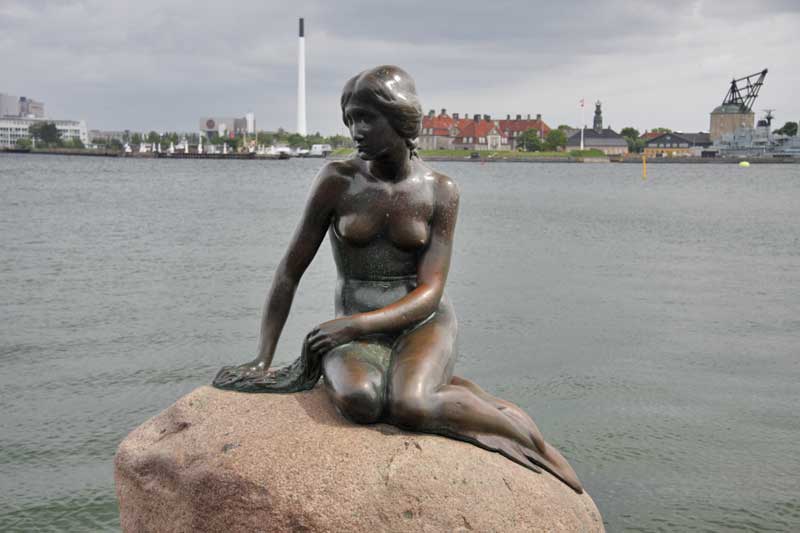 ---


This is how you normally see her, with tourists on land and sea, and cameras clicking away.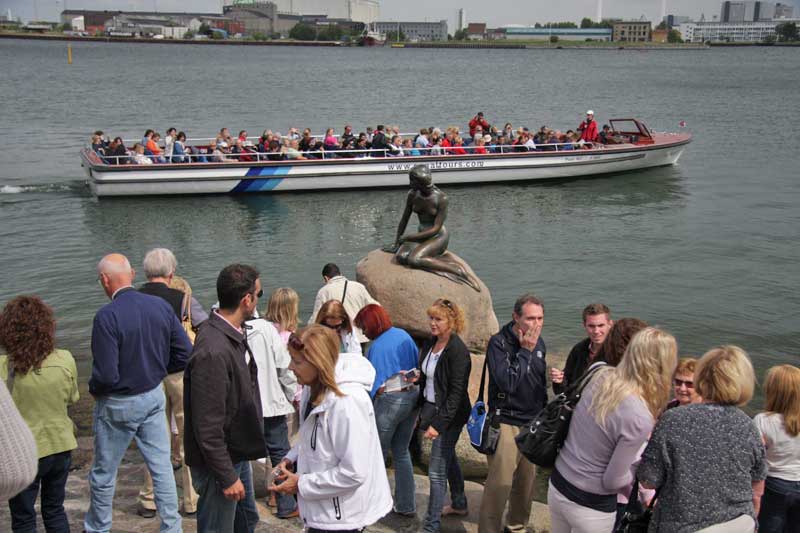 ---


This evening we board a ferry taking us from Copenhagen to Oslo, Norway. It's an overnight trip
and the boat seems more like a small cruise ship than a traditional ferry. We had a very nice
dinner and there was a good band playing in the big lounge on board. Our room was a bit "spartan",
but it was comfortable enough for an overnight trip on smooth water.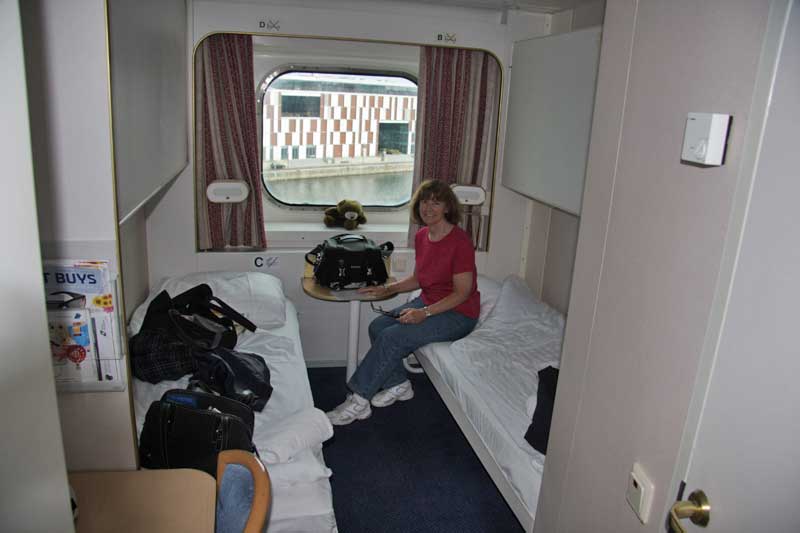 ---


A visit to the duty-free shop allowed us to purchase some refreshing beverages, a trick
recommended by all the tour books we read, due to the high cost of everything in Norway.
Our next stop ... Oslo!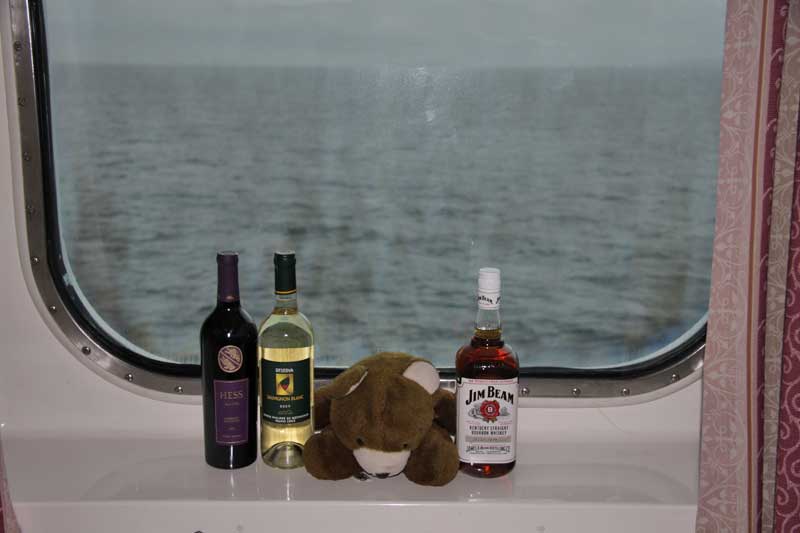 ---
Click to view Norway.
Return to top level